Summer Scoop, June 2023
Landscaping you can be proud of.
What's the number one, bar none, uber best way to have the best-looking gardens and grounds on the block? As with any living organism, an environment that promotes natural resiliency, optimal growth, and disease resistance will make your landscapes look a thousand times better. Okay, so I made that number up, but you get the picture.
And besides show-stopping gardens and grounds, you save money by maintaining your properties' health: decreased replacement of plant materials, lower investment in insecticides and other treatments, fewer trees to take down.
We keep all our client properties on a schedule for promoting health: pre-emergents, fertilizers, (including deep root fertilizing), pruning, lime applications as needed, aeration, overseeding, grub control, water—the list goes on.
And don't forget trees. Dying trees stick out like sore thumbs when someone drives up to your property, and often times, sick trees can infect other trees in the area if they've developed disease, blight, or a borer infestation. We can help you determine what's going on with sick trees and formulate a treatment plan.
The bottom line is, even if you are not yet using organic solutions, you can still contribute to sustainable landscaping—and a healthier planet—by staying focused on monitoring your properties and adopting a preventive maintenance strategy.
Or you can let us do that for you! We have expertise in both conventional and all-natural solutions, so you can count on us to make the health of your landscapes a priority. Call us!
---
Meet Gracie, Our New Tree/Shrub IPM Technician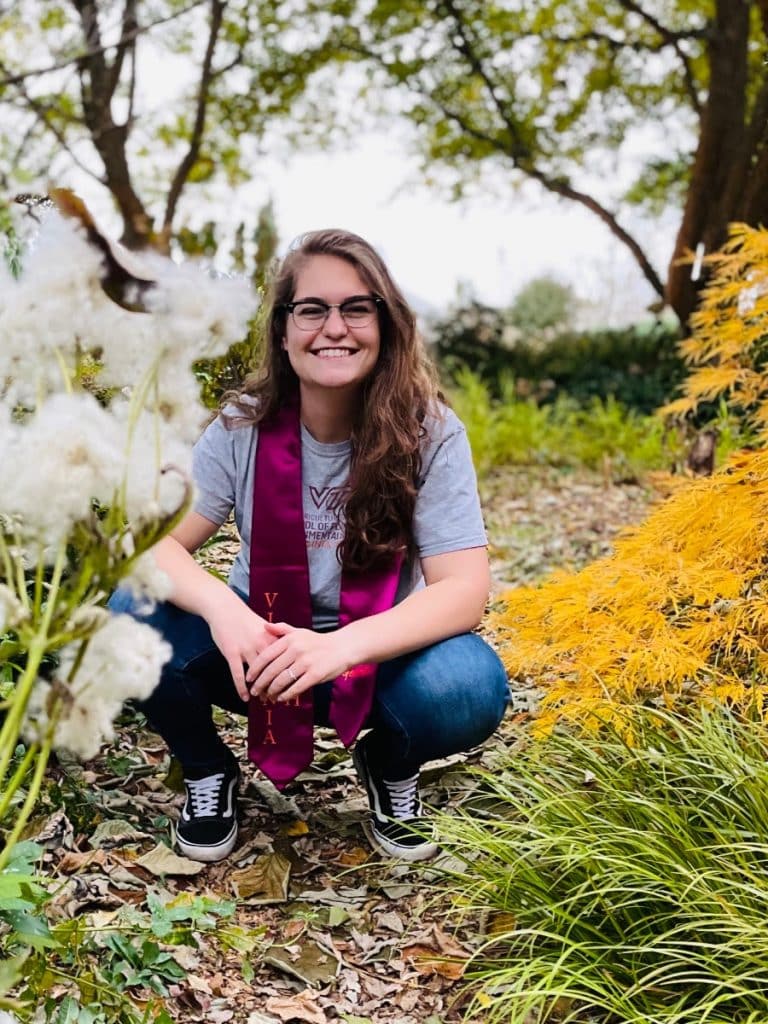 A December 2021 graduate of Virginia Tech majoring in Environmental Horticulture with a minor in Plant Health Sciences, Gracie Tyus started her career as a greenhouse grower, supplying plants to box stores like Costco, Walmart, and Lowes. She joined EE in April because she was "looking for more challenge and excitement" in her work.
"Everyone has been very welcoming and helpful," Gracie says of the EE team. She really likes the 'vibe' at EE and is enjoying getting to know her new colleagues and clients.
"I have a lot of plant pathology knowledge, and I wanted to put it to good use helping clients in the community," says Gracie. "I love the thrill of identifying what's wrong with a plant. So many people see plants that look like they're dying or have bugs on them and have no idea what's going on. I like being someone who can help others understand the natural world better."
Gracie chose the landscaping industry because she loves creating beautiful sites for people to look at. "A beautiful landscape can affect how people choose a business to go into or how they view their neighbors," she says. She also feels it's important to integrate nature into our everyday lives.
When she's not working, Gracie enjoys reading books, playing games, cooking, and hiking with her partner.
---
Sustainable Landscaping Corner
Seeking environmentally conscious landscaping interns & apprentices!
If you know any college students, newbies to the job market, or someone considering a move in the landscaping industry, please let them know we're committed to ecological best practices whenever possible. We care about our employees AND our planet! Great opportunities for people who want to make a difference.
We're always on the lookout for interns and apprentices!
Cheers, Mary Follin Ask About Organic Options! Environmental Enhancements www.eelandscaping.com 540.764.4433
Watch: Jane's Story
Watch: The EE Story