Summer Scoop, July 2022

There is oh-so-much wrong with this.
As we all know, Northern Virginia is developing at a brisk pace, to the point where there's hardly room to squeeze anything else in. Because of tear-downs and new construction, people are experiencing increasing issues with too much water running through their properties. Additionally, many longstanding deciduous trees are dying off or being taken down, old trees that absorb excess water and stabilized land with extensive root systems. And how about the torrential rains we've been having in recent years? Addressing drainage issues is becoming a 'must' for many property owners who may never have experienced water problems before. You probably don't need us to tell you how water can wreak havoc on buildings. Standing water often seeps into cracks and crevices, causing foundational damage and mold-growth—inside and out. Poor drainage on commercial properties can also cause damage to parking lots, pavements, and entranceways. Solving drainage issues is inconvenient, but NOT solving them is worse. Plus, when you decide to take the plunge, you also get the opportunity to enhance your properties. Take a look at these BEFORE and AFTER photos of one of our recent projects! A lot of people don't know we offer drainage solutions, but we do. Call or email me if you would like us to come out and take a look at your property.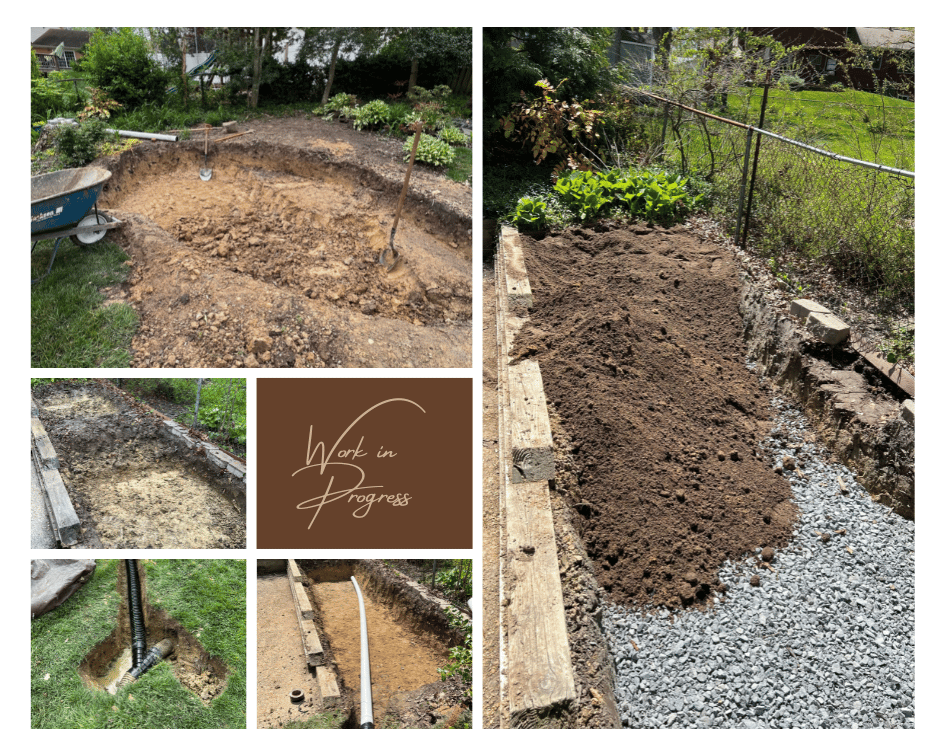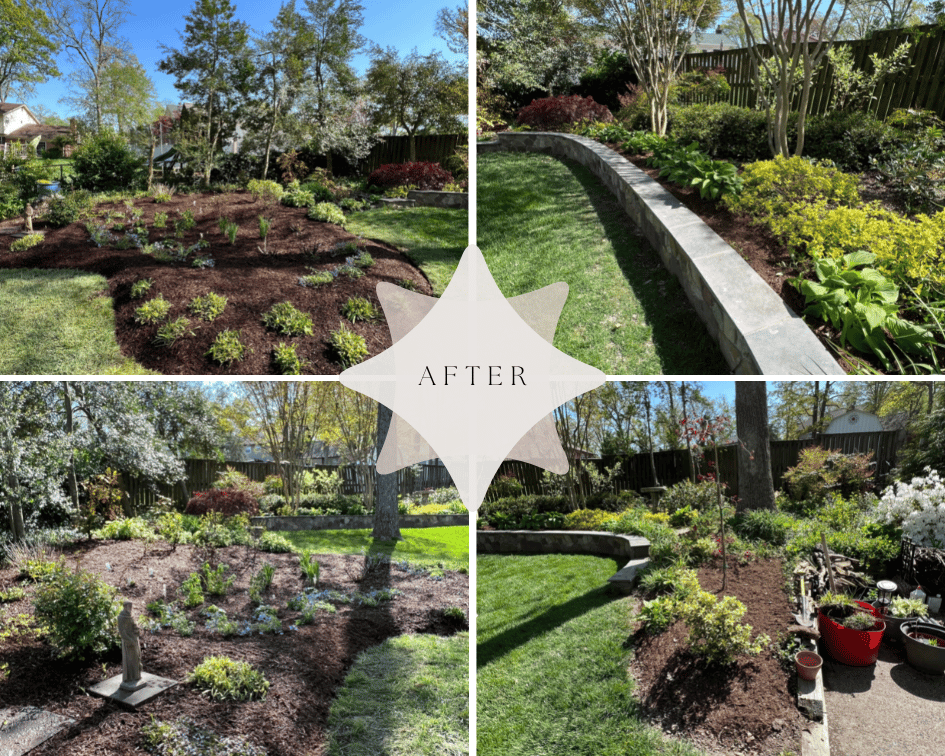 EE Earns Loudoun County Small Business Award
We have been an award-winning landscape company every year—for years—but some of our favorites are the ones that our community nominates us for. We are proud to accept a Loudoun County Small Business Award this year. This award goes to local businesses that reach exceptional achievements in leadership, business growth, acts of valor, and health & wellness, all of which reflect our company's core values. We are deeply honored to be recognized for what we are committed to putting into practice!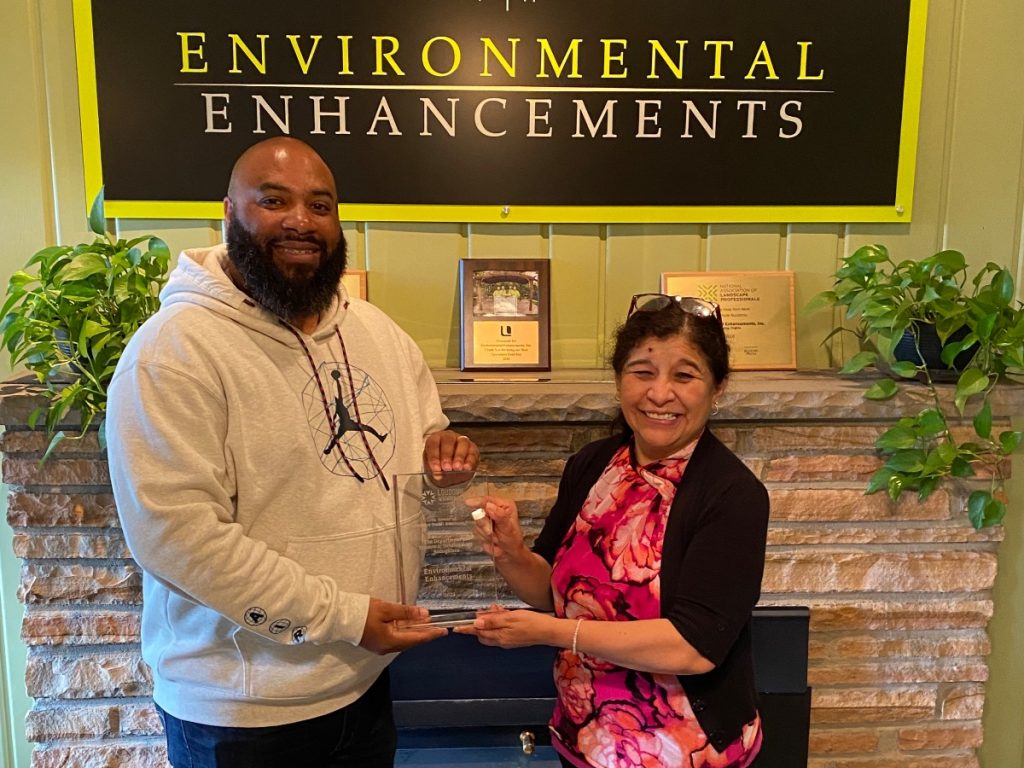 Koran T. Saines, Sterling District Supervisor, presents the Small Business Award to Carmen, Kesteven, EE HR Manager
One of our ongoing goals has been to stay on the front-end of 'going green,' and with our recent purchase, we've become one of a small number of commercial landscaping companies that has invested in battery-driven technology for lawn care equipment.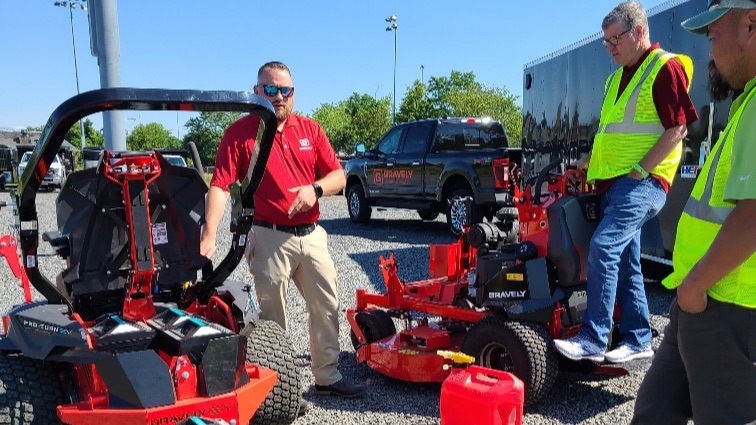 Fred does a little 'tire-kicking' when shopping for battery-operated equipment.
According to the California Air Resources Board, one hour of mowing with a gas-powered lawn mower generates the same pollution as driving a car 300 miles. Replacing enough of them has the same impact as reducing the number of cars on the road. As far as the noise is concerned, if you imagine a gas-powered lawnmower with a decibel level similar to that of a muffler with a hole in it, a battery-operated lawnmower is more comparable to a finely-tuned engine. Cleaner air, less noise. Who can argue with that?
Cheers, Mary Follin Ask About our options for Xeriscaping! Environmental Enhancements www.eelandscaping.com 540.764.4433