Industry Leaders For DC Commercial Landscapers
The right landscaping service can transform your commercial space. At Environmental Enhancements, you'll find a dedicated team of professionals with the passion and skills necessary to create the most spectacular outdoor spaces. We'll elevate your property to a whole new level!
Why Choose Environmental Enhancements For Your DC Landscaping Projects?
We know there are many landscaping companies to choose from, but at Environmental Enhancements, we understand that your property speaks volumes about you before customers can even step through your door. Making a great first impression with a well-maintained and beautifully designed landscape offers aesthetic appeal and creates a welcoming environment. Our services include:
Commercial Landscape Maintenance
Landscape Designer Services
Irrigation repairs like sprinkler repair and sprinkler installation
Snow Services
Organic Lawn Care & Pest Control
Drainage Solutions
Call us today to find out how we can help you with all your commercial landscaping services in DC, Washington.
Benefits Of a Well-Maintained Commercial Landscape
A well-maintained commercial landscape has many benefits, and our DC commercial landscapers will make sure that you take advantage of all of them. Our Beautiful DC landscapes can:
Attract More Customers
Stand Out from the Competition
Increase Workplace Wellness and Productivity
Boosts Property Value
Increase the Value of Your Property
Our DC landscapers are ready to help you
We have the skills and experience—earned over more than 20 years—that will let us create the most beautiful landscape you can imagine for your property. Let us provide you with something that is not only visually stunning but also sustainable and easy to care for.
Your property is unique and needs to be approached with that understanding. We will not give you a one-size-fits-all solution. Instead, we create solutions that match your individual needs. Whether you are looking for something simple and low maintenance, a more elaborate green paradise, or an eco-friendly landscape, we can provide it. Contact us for a free commercial landscaper estimate!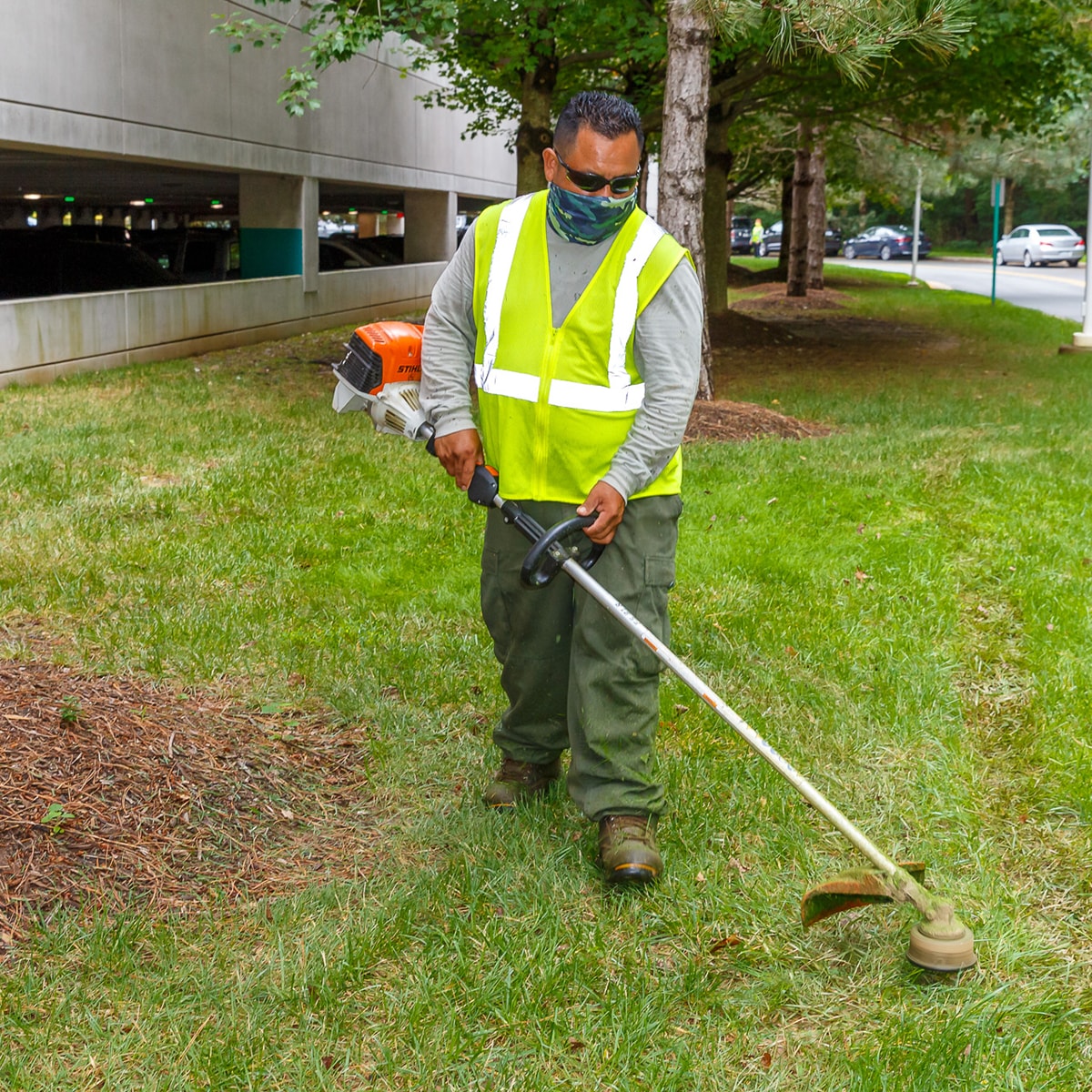 Top Reasons to Hire DC Commercial Landscapers
Providing you with the highest-quality landscapers for your projects is the passion that guides us. We use only the best materials and the latest techniques to ensure your satisfaction. We won't rest until you are happy.
Our Comprehensive Landscaping Services
From retail establishments to medical facilities, campuses to HOAs, we do it all. Here are just some of the services that we offer:
Landscape Design and Installation
Looking for a landscape design that reflects your business's personality and company culture? Our expert designers will work with you to create a look that is all your own, handling every detail to ensure the exact results you have envisioned.
Designing and creating your landscape is just the beginning. Every landscape will need some maintenance to keep it looking its best. Our maintenance services include regular mowing, weeding, fertilization, pruning, and pest control to ensure that your property remains attractive and inviting throughout the year.
Irrigation Repairs & Sprinkler Installation
Proper irrigation is a vital component of caring for your property. Having a state-of-the-art irrigation system installed not only keeps your landscape lush, green, and inviting, but also helps to minimize water wastage.
Seasonal Landscaping Cleanup
Each new season brings its own challenges and tasks to perform. Effective seasonal landscaping cleanup keeps your environment beautiful and healthy so that it can endure changing weather conditions.
Sustainable Landscaping & Organic Lawn Care Solutions
Sustainability is a serious concern for today's businesses. With eco-friendly practices, we limit the impact on our environment by reducing the need for water and maintenance, simultaneously saving you money. It's an approach that benefits all.
At Environmental Enhancements, we are transforming the landscape of DC. Corporate offices, retail establishments, medical facilities, high-end residential properties, and more have all benefitted from our expertise. Put us to work for you!
These are just a few of the DC Commercial Landscaper Services:
Seasonal flower displays
Tree & shrub care
Mosquito & tick control
Turf program
These are just a few of the Commercial Landscaping Services we offer:
Seasonal flower displays
Tree & shrub care
Mosquito & tick control
Turf program
Irrigation services
Pruning services
Treework
Leaf removal
Snow services
Call Us Today!
Call us today to find out how we can help you with all your DC commercial landscaper and hardscaping services! We also offer landscaping across surrounding areas.

Our partnership with EE Landscaping began in late 2018 when they took over as the landscaping vendor for our portfolio of six buildings in Dulles, Virginia. They inherited uninspiring and lackluster grounds and turned it into the bright and gorgeous campus it is now. We are beyond satisfied with every aspect that EE brings to the partnership: from the detail in landscaping care, to weekly communication, to their accounting department. They made it easy to make our campus one to be proud of!
As a leading landscaping company in the Washington, DC metro area since 2001, we have been providing landscape maintenance services to property managers and homeowners in Fairfax, Falls Church, Leesburg, Sterling, Arlington, Alexandria, Manassas, Springfield, Lorton, Woodbridge, and surrounding areas in Virginia. We also provide landscaping services in Frederick, Gaithersburg, Bethesda, and surrounding areas in Maryland. We have the environmental landscaping experience to meet your landscaping design preferences and needs.
Contact Us for a Free DC Commercial Landscaper Consultation
The right landscaping can enhance your property and save you time and money. Contact us today for free DC commercial landscaper, HOA landscapers, and residential landscaping consultations. We'll go over your goals with you and provide you with a customized plan for a stunning and sustainable landscape.