Featuring Spring, March 2023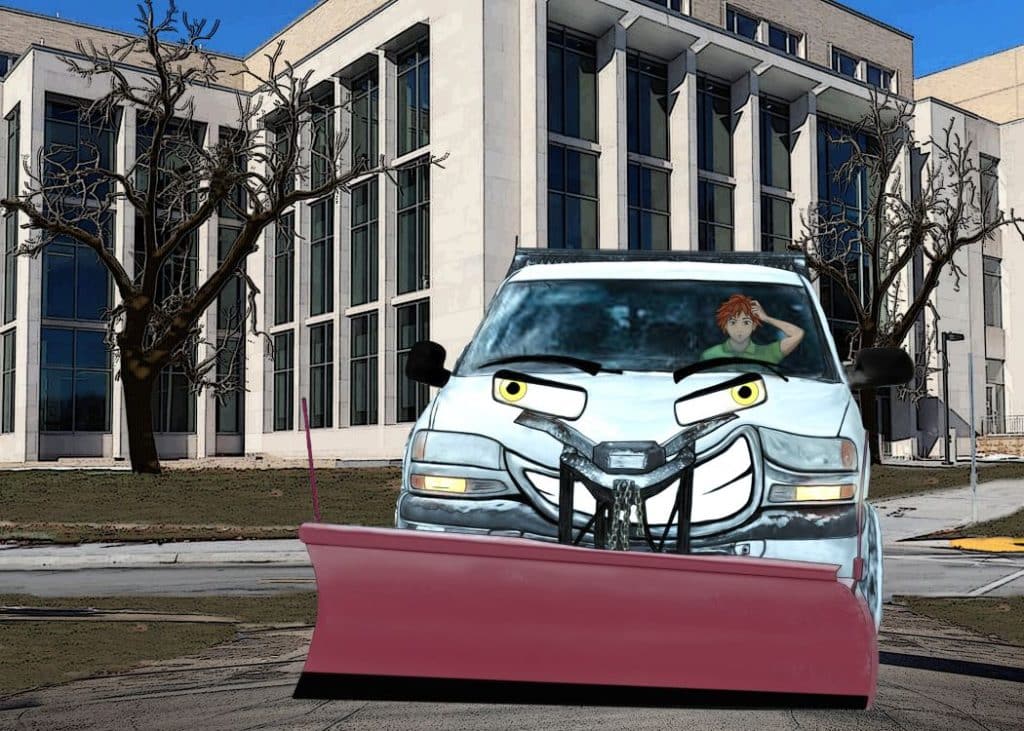 Strange weather year, isn't it? Unless you're a kid, you're probably loving the break we're getting from Old Man Winter. At EE, we're all geared up for the snow season, but clearly, it's been much ado about nothing. Besides getting to eat lunch outside and play tennis after work, a nice by-product of our mild winter is that you probably have an unused snow fund, just sitting there, waiting for you to figure out what to do with it. Why not splurge on a few enhancements that might have been out of reach in previous years? Many of our clients are choosing to install container gardens. These decorative pots are a low-cost option for greeting visitors as they approach your buildings. Great for foot traffic control, too.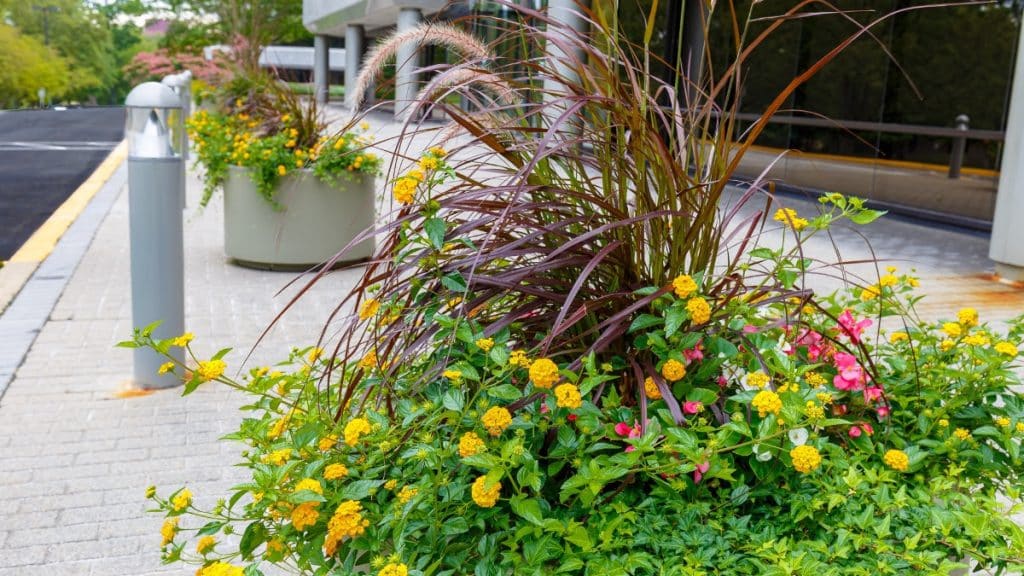 Container gardens are an economical way to impact the customer's experience at your properties.
Since many people in your buildings are probably enjoying lunch outside, why not enhance outdoor spaces and invite them to stay a while? Adding design touches to the landscaping, privacy hedges, and colorful patio furniture creates a welcome oasis for unwinding and relaxing in.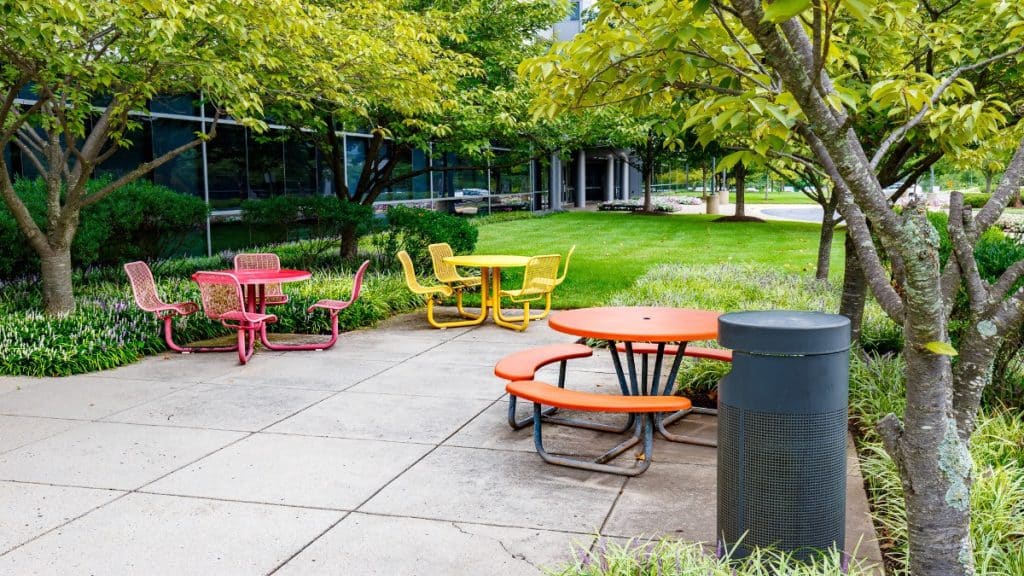 Freshen up your outdoor spaces and you will have happier tenants.
Are there areas of your property you think people don't notice? Less exciting spots like parking lots, garages, or waste areas? People DO notice! Investing your extra funds into camouflaging these less-than-appealing spots will go a long way to improve the overall look and feel of your whole building.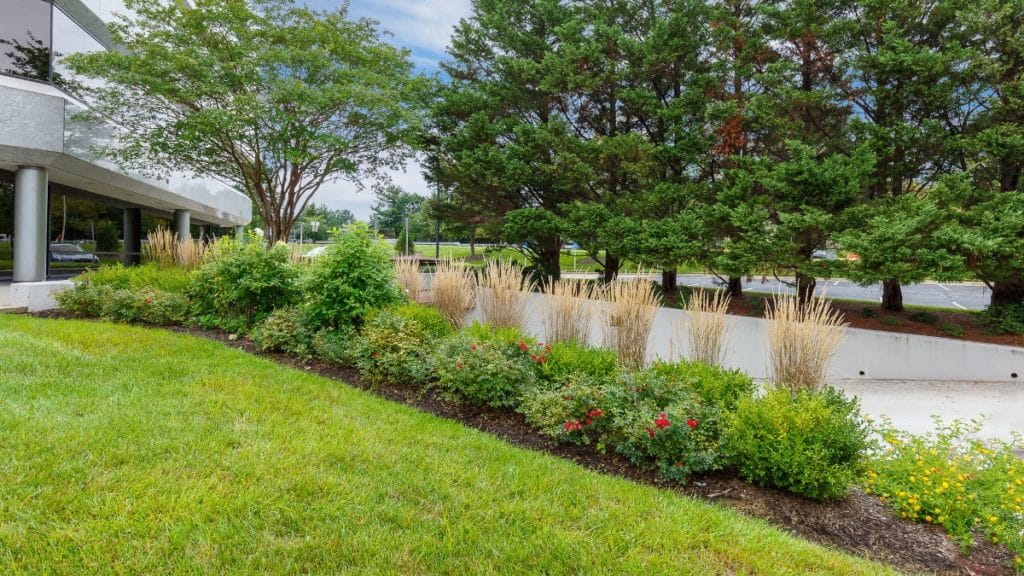 Landscaping parking lots and garages may feel like an afterthought, but these are the places that create first impressions when people drive onto your property.
One fallout from warmer temperatures in winter is that invasive pests, insects, fungus, and other manner of harmful critters are more likely to live through it. We strongly recommend an IPM 'checkup' every year, but particularly when we haven't had enough ice and snow.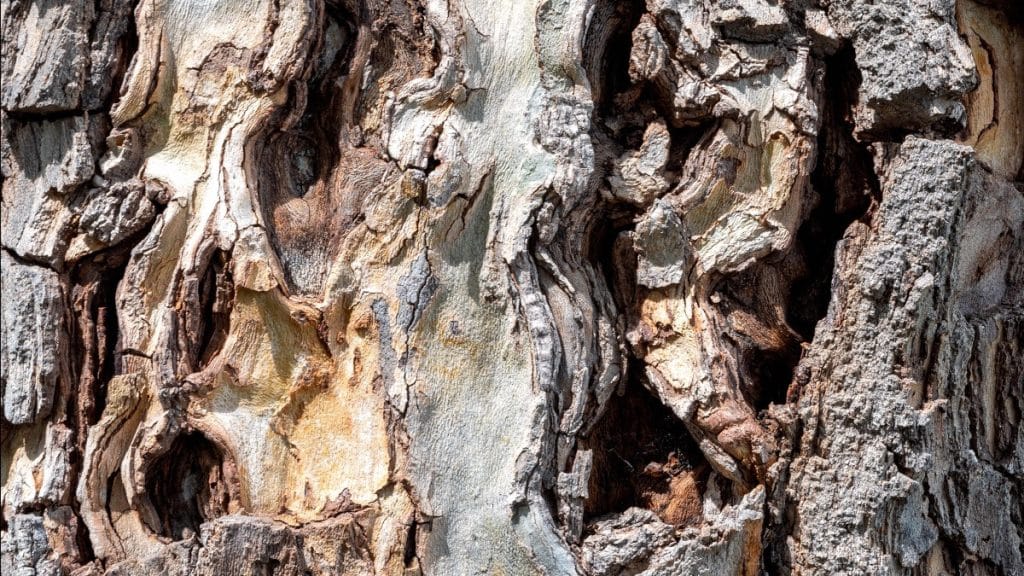 Now is the time to inspect trees, shrubs, and other plant materials for infestations.
If nothing else, please consider taking care of any drainage issues that have developed on your property. Damage to surrounding plant materials, hardscapes, and building foundations cost FAR more than preventive maintenance. Take a look at these before and after pictures. We can turn your worst nightmare into something beautiful!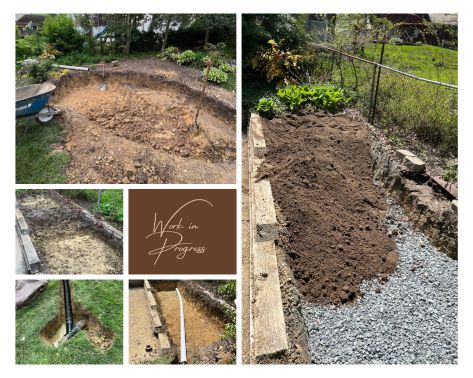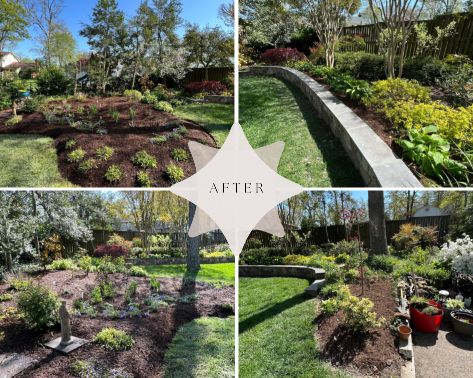 Perhaps you're looking at this list and know you need to do something, but you're not sure what. That's where we come in. This month is a great time for us to come out and walk the property with you. We can help determine what your options are and how to prioritize them. You may have heard of the EE Storyboard, a free service for our clients where we 'sketch' out enhancement recommendations for each of your properties. Spring is going to be here in a few weeks, so if you'd like us to storyboard your properties, we need to start now. Call me!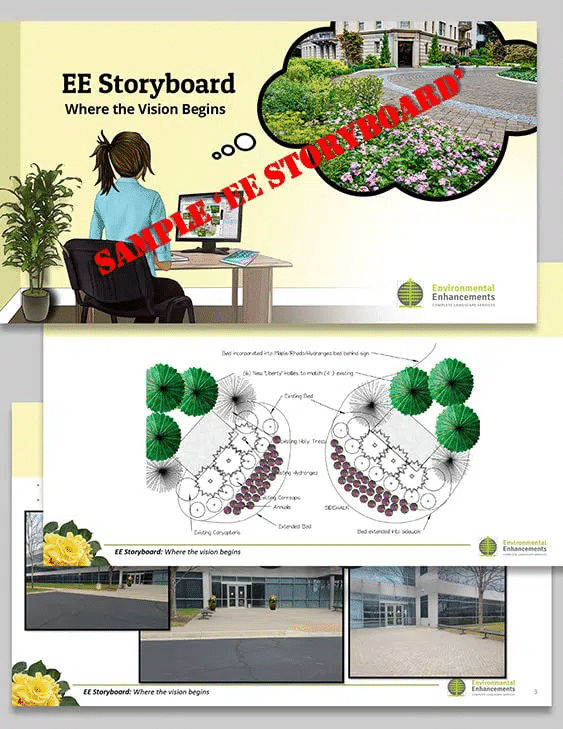 Download a Sample EE STORYBOARD. Let us do one for your properties. It's free for our clients!
Meet Our New Accountant, Subash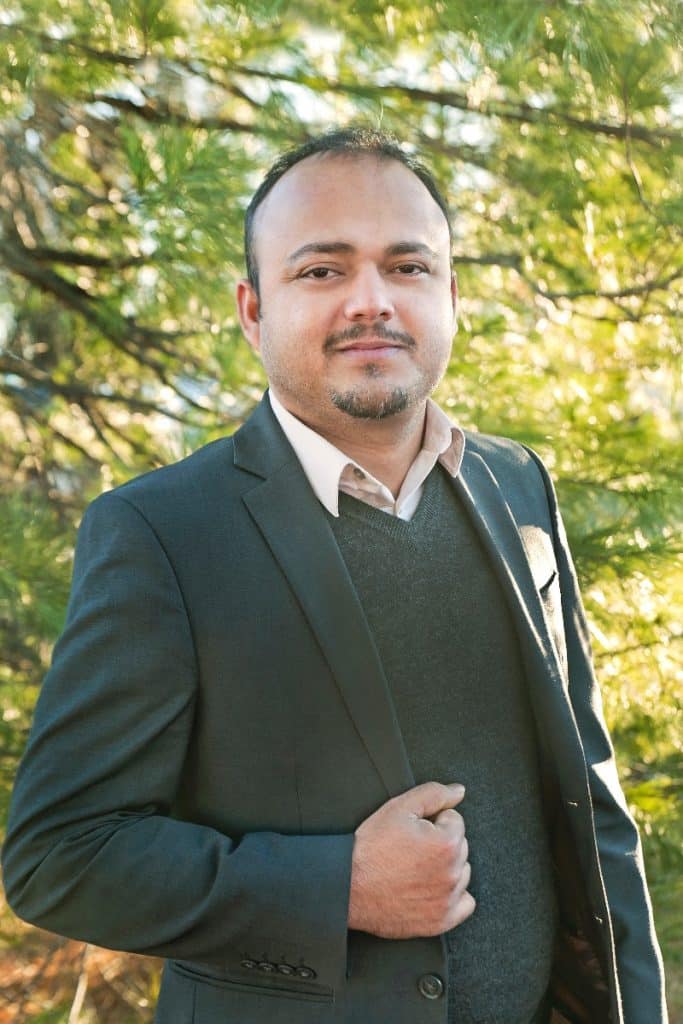 Subash Padal has always loved working with numbers and thinks of accounting as "one of the most important departments in the company." He feels that in order for a company to sustain growth, the accounting operations must operate at top efficiency. Interestingly, Subash had little familiarity with the "green" industry before joining EE. But now that he's had some experience, he fully appreciates how important landscaping is to EE customers AND employees. "I like how all of my co-workers work together," says Subash. "They're very focused on making EE a great place to work." Subash's role at EE is to support financial decision-making by tracking and analyzing data, auditing financial processes, and monitoring payroll. When he's not working, Subash loves to cook and watch soccer.
Sustainable Landscaping Corner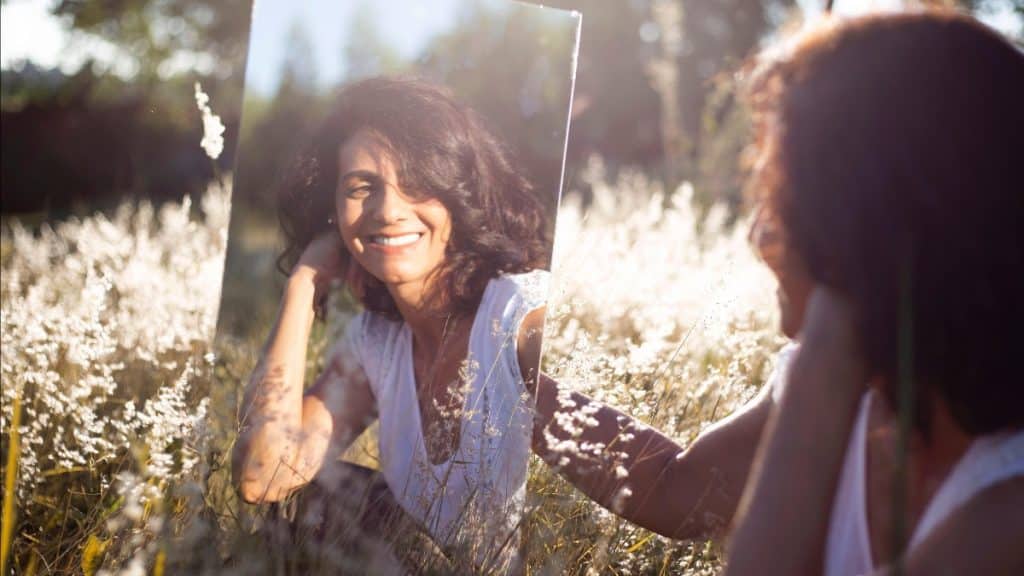 Reflecting Back on You
While some of your investments in landscape improvements are obvious, a lot of them aren't. Sustainable landscaping options are particularly difficult to identify, because a beautiful landscape is a beautiful landscape, regardless of how it got there! If you've invested in sustainable options, are you getting the credit you deserve? If the answer is 'no,' perhaps the people you serve need to be educated about the choices you've made to support their wellbeing—and that of the planet. Publish regular articles in your community newsletter, post signs and markers, make announcements at tenant meetings. Make sure everybody notices how quiet the equipment is, how healthy the native plant gardens are, and how it only takes about an hour before pets can walk on grounds that have been fertilized with 100% natural products—and that's just to make sure the treatment is dry. You're doing right by the tenants in your buildings and the residents in your community. They should know about it! After all, isn't that why you're in this business? When people know you care about them, that's something you can feel good about.
Cheers, Mary Follin Ask About Organic landscaping Options!
Environmental Enhancements www.eelandscaping.com 540.764.4433
Watch the EE Story
Jane's Story