HOA Landscaping Maintenance Services
You won't find a more proactive team than ours to provide your Sterling, VA, and DC HOA landscaping maintenance services. Our HOA landscapers are nearby you now. We work with many HOA properties across Northern Virginia.
Landscapers Work Closely With You To Develop a Solid HOA Landscaping Maintenance Plan
We start with the custom HOA landscaping plan, which abides with the current sample HOA rules and regulations landscaping guidelines and HOA lawn maintenance guidelines. Collectively our HOA landscaping team identifies what you need, what you DON'T need, and a budget. We also have organic lawn care options to save your money in the long term! Organic lawn care services are more affordable than you might think. Contact our experienced HOA landscapers for details.
Guide: How to Choose the Right HOA Landscaper for Your Community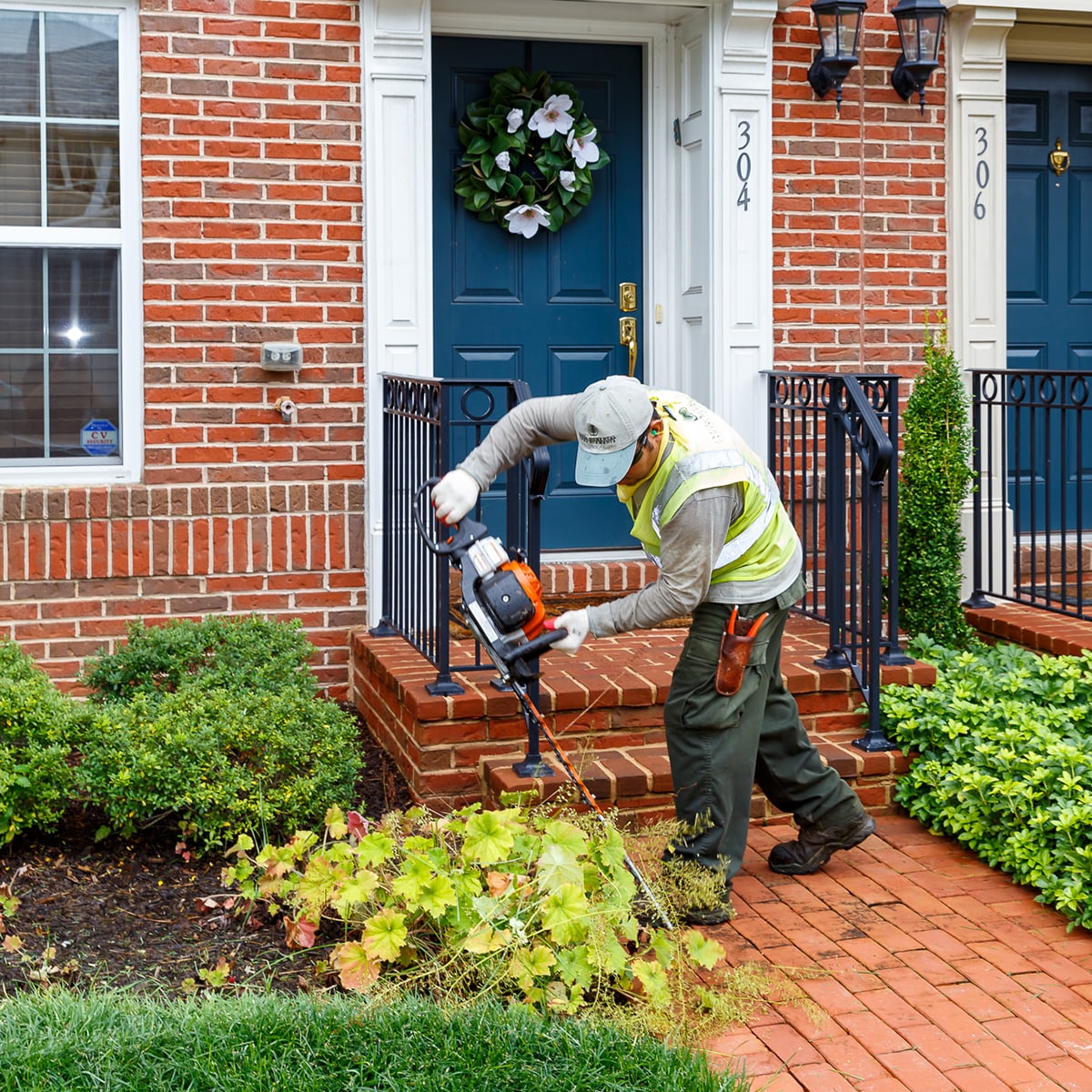 HOA Landscaping Maintenance Services in Northern Virginia, Maryland, & DC
We start by setting up a communication schedule with you. When you choose Environmental Enhancements to provide your HOA landscaping maintenance plan, we deliver reliable results.  We service DC and Sterling area as well as Northern Virginia. You will know when to expect us, how often, and the schedule for when and what HOA landscaping maintenance services will perform.
Along the way, we'll continually make recommendations about ways to enhance your common areas so your neighborhood stays inviting all year round. We also offer xeriscaping options like organic lawn care and sustainable landscaping methods which can save water and money in the future.
Just A Few Of The Community Landscaping Maintenance Services Offered To You:
Seasonal flower displays
Tree & shrub care
Mosquito & tick control
Turf program
Irrigation services
Resolving Landscape drainage issues
Landscape lighting options to improve safety and ambiance
Pruning services
Treework
Leaf removal
Snow services
Cost-effective organic lawn care options 
Sustainable landscaping for HOA landscaping maintenance plan options
Got a pool, park, or clubhouse? We've got an organic lawncare for tick, gnat, & mosquito control.

For several years, the acres of our association's landscaping languished under less attentive companies. I am happy to report that the crews at Environmental Enhancements have 'righted the ship.' The EE team has the knowledge and resources to make your plan successful, easy to implement, and above all, the entire team takes great pride in their work!"
A Few of the Sterling and DC Community Landscape Maintenance Services Offered:
Seasonal flower displays
Tree & shrub care
Mosquito & tick control
Turf program
Irrigation services
Pruning services
Treework
Leaf removal
Snow services
Optional Organic lawn care services
Landscape Lighting Features
Award-winning HOA landscaping companies in Virginia
Call Us Today For An HOA Landscaping Maintenance Quote!
We'd love to put our state-of-the-art equipment and highly trained HOA landscaping professionals to work in your community. Our experienced and reliable HOA landscape maintenance team is nearby you. Give us a call to find out how we can take care of all of your landscaping maintenance tasks, leaf removal, and tree trimming services in DC, Sterling, and across Northern Virginia. Call us to speak about your HOA maintenance contract now!
What is landscape maintenance?
Landscape maintenance is a routine plan to maintain your outdoor environment or garden. This is a common commercial outdoor landscaping term that keeps the outdoor landscaping design well maintained all year and throughout the seasonal landscaping needs. 
Why is landscaping maintenance important?
Landscaping maintenance is important to reduce the chance of accidents from limbs falling off trees, reduce the chance of slips from excess leaves on the ground, maintain curb appeal, and improve safety around the property. 
How landscape maintenance can improve safety around your property?
Landscape maintenance can improve safety around your property by tidying up fallen leaves and excess snow to reduce slips on the ground, reduce the chance of tree limbs breaking off and hurting people on your property, reduce tripping factors like long grass and overgrown shrubs. 
Our experienced HOA landscaping maintenance team are reliable and courteous. We take our landscape maintenance tasks seriously in order to keep your community safe and engaged in the outdoor areas. Our landscaping tasks can include patio landscaping maintenance, rock design, water features maintenance, irrigation repairs, HOA snow removal services, fixing pooling and landscape drainage issues, and regular upkeep of the trees and plants on the property. We service the DC area, Sterling, and Northern Virginia.
We also offer organic lawn care with trained organic landscapers. This can include natural pest control. We invite you to take a look at our organic lawn care services and learn how to save landscaping costs in the future with sustainable landscaping options. View our commercial landscape lighting options to improve safety and ambiance on your property.
As a leading landscaping company in the Washington, DC metro area since 2001, we have been providing landscape maintenance services to property managers, facility managers for data centers, retail stores, medical centers, and homeowners in Fairfax, Falls Church, Leesburg, Sterling, Arlington, Alexandria, Manassas, Springfield, Lorton, Woodbridge, and surrounding areas in Virginia. We also provide landscaping services in Frederick, Gaithersburg, Bethesda, and surrounding areas in Maryland. Contact us for an HOA landscaping maintenance or HOA lawn care contract quote now!