Loudoun Commercial Landscaping Company
Making a good first impression is vital to the success of any business. What your commercial space looks like on the exterior tells potential customers a lot about your business on the inside. As a trusted landscaping company with years of experience, we are committed to exceeding the expectations of our customers with our service, methods, and highly trained Loudoun  commercial landscapers in VA.
Your Property Is in Good Hands with Our Loudoun Commercial Landscapers, VA
We can help you ensure that the outside of your commercial property presents the perfect image all year long. Environmental Enhancements has been providing exceptional commercial landscape maintenance services to businesses throughoutVirginia since 2001. Our landscaping services include:
Why Choose Environmental Enhancements As Your Loudoun County Commercial Landscapers?
When it comes to affordable, all-inclusive landscaping services, reach out to Environmental Enhancements. Call us today to find out how we can help you with all your commercial landscaping services in Loudoun, VA
Save Time – Property management teams already have a lot on their plates. Why add more? Why worry about maintaining your lawn, scheduling watering, and clearing snow when you don't have to? Rely on our Loudoun commercial landscapers to take the landscaping duties off your hands.
Attract Customers – Attracting customers is easier with a beautiful exterior. Commercial landscapers in Loudoun look after your lawn, prune trees and shrubs, and water landscaping systems, delivering eye-catching results that will get you noticed.
Enjoy Year-Round Services – Keeping your business looking good throughout the year is what we do. With Environmental Enhancements, trust our Loudoun commercial landscapers to handle all your landscaping needs regardless of the season.
Increase Property Value – Investing in a well-maintained commercial property will boost the value of the property. If you decide to sell your business, you can be sure that your property will be worth more. Commercial landscaping is an investment that pays off both now and in the future. Learn about our retail landscaping services or HOA landscapers.
Better for The Environment – Choosing a Loudoun commercial landscaping team that is an environmental champion is also beneficial to your business. By designing a landscape that is appropriate for your property, we can help you lower water consumption, soil erosion, and the carbon footprint of your premises. Our eco-friendly commercial landscaping company also offers organic lawn care products that protect tenants, employees, and customers from toxic fertilizers, weedkillers, and insecticides.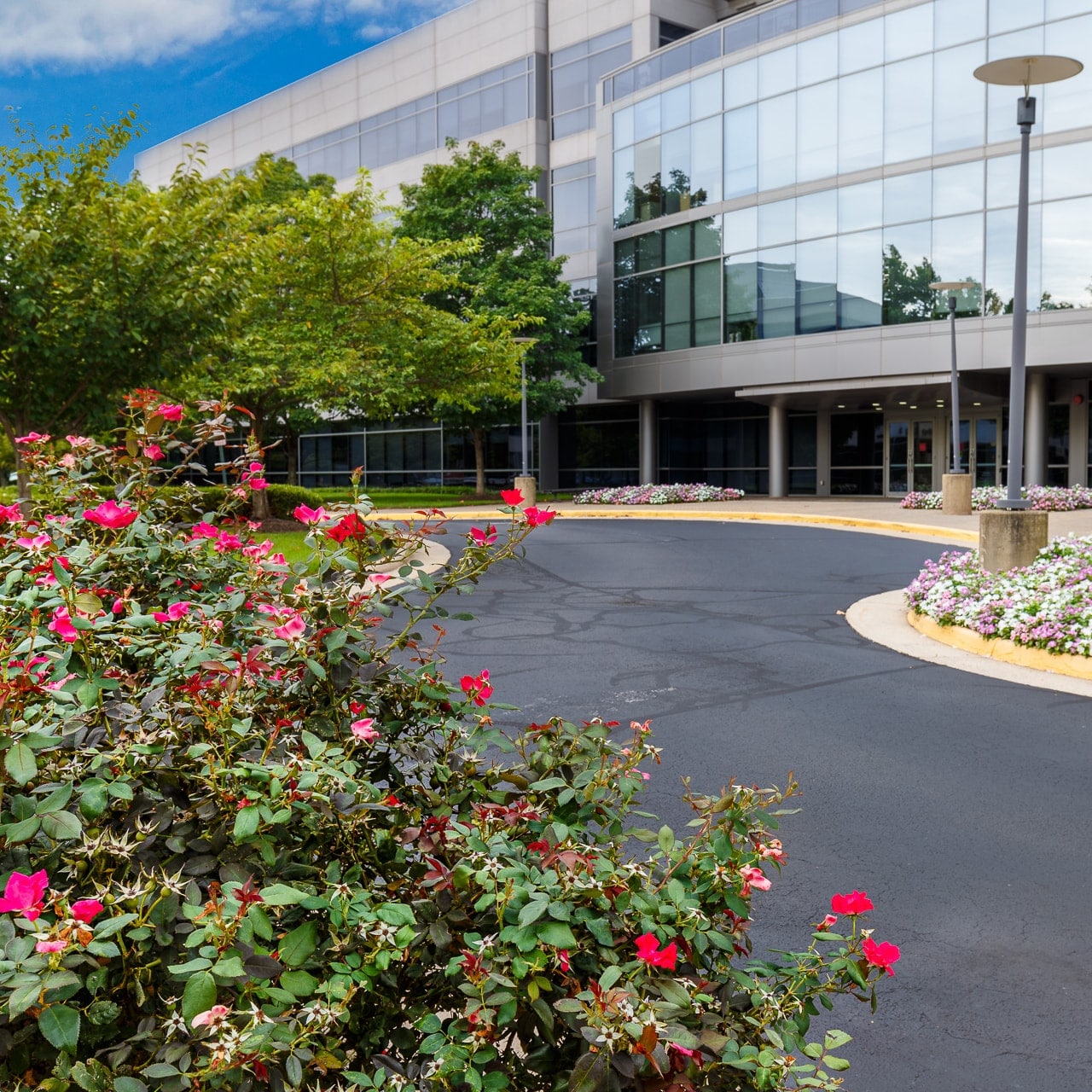 Providing Commercial Landscaping Services in Loudoun County
Because we are a boutique Loudoun landscaping services company, you will never get lost in the shuffle with us. We value your business and we will make sure you know it. If you are looking for a landscaping partner who cares about what's important to you, you've come to the right place.
When you choose us as your landscaping company, your complete satisfaction becomes our number one priority. Our trained landscaping professionals listen and partner with you to make sure your property is taken care of and that you are happy with our work.
Contact us to find out how we can help.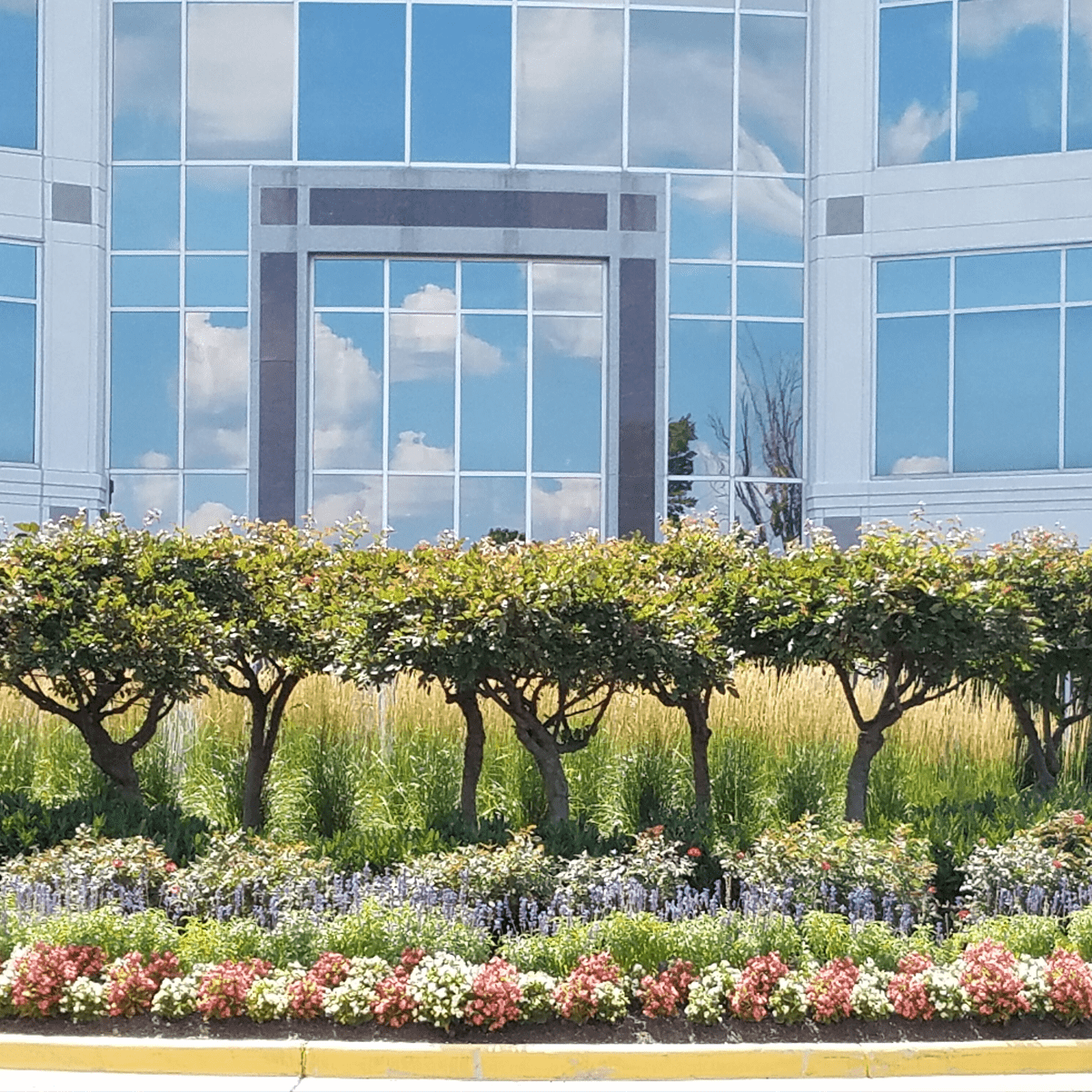 DISTINCTION AWARD
Commercial Maintenance Category
Environmental Enhancements, Inc.
High Security Office Building
Our Sterling and DC commercial landscaping contractors were hired to prepare this property for LEED certification status. We are particularly proud of this distinction award because we are a commercial landscaping contractor in Sterling and DC that works hard to make environmentally friendly choices whenever possible.
Here's what you can expect when you work with us.
A phased approach to fit your budget and your needs
Honest recommendations about what you DON'T need
Clarity on how to optimize services within your budget
Guidance on how to fix what's not working for you today
A professional design that attracts businesses and residents to your property
An eye for aesthetic and function that increases your property value
Long-term maintenance planning and associated budget
Trained landscaping professionals caring for your property
Call Us Today!
Call us today to find out how we can help you with all your commercial landscaping and hardscaping services in the Sterling or DC areas!

Fred and his team are experts in their field and have always provided exceptional service. It is not unusual for me to receive compliments on how attractive and well maintained the landscaping is at my properties. I truly value our relationship and highly recommend EEI.
Our Newsletter: Sign up and get landscaping tips, stories, and seasonal how-to's once a month.