The Fall Beat, November 2022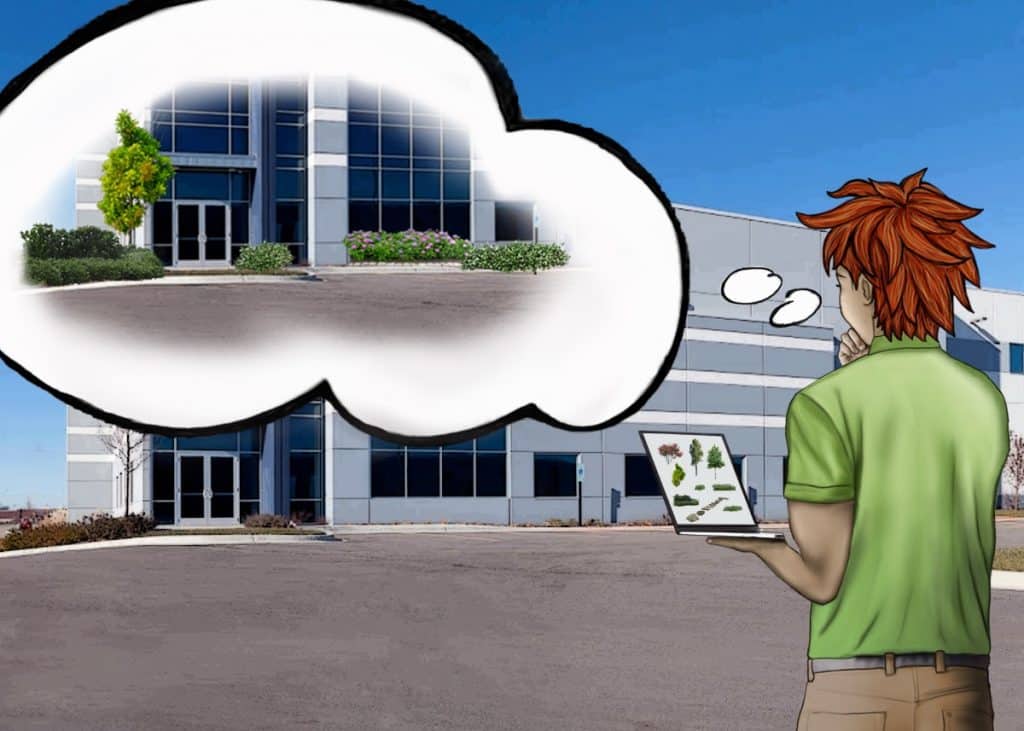 We share your vision!
If you're ready to 'level-up' your landscaping, it's time to talk about a Master Plan. Or maybe you've inherited a new property, and you're starting from scratch. Either way, a large-scale landscaping renovation can feel daunting (and expensive!), which is why we always start with a Master Plan.
A Master Plan is a sketch of your property that encompasses how your property looks now—and how you want it to look in 5 years. By doing this, we can take a phased approach to new installations to account for planned changes in the property's configuration (e.g., a new wing on a building), maturation of your current landscaping, and your budget.
There's nothing more annoying than having to remove expensive plant materials because you've got mature shrubs encroaching on the butterfly garden you plan to install three years from now!
A Master Plan will help us prioritize what's important to you first, then as budget allows, we'll phase in next steps. We can also get a head start on trees and shrubs that take longer to mature so it all comes together upon completion of the plan. As an added bonus, the smaller sizes cost less.
A Master Plan will save you money in the long run, but just as importantly, your property will have a more cohesive, well-designed look. Our landscape designer, Kyle, is an expert at this! I'd be happy to set up some time with Kyle so you can find out about a Master Plan for your properties.
Call me or reach out to Kyle directly at kthurman@eelandscaping.com and we'll get you started!
---
YOUR PROPERTIES, YOUR VISION
The EE Story Board helps make enhancement decisions easier for you.
Sometimes, it's not easy to tell what needs to be improved on a property, especially if you're not a professional landscaper. Many of our clients leave it up to us, since over time, they trust us to make recommendations that enhance the property and stay within budget.
But some of our clients prefer more. We love when a client walks the property with us, asking questions and sharing what they like—and don't like.
To make this "walk-around" more meaningful to you, we then go back to the office and compile pictures of the plant materials we're proposing for each area of the property. Called the EE Story Board, these images visually demonstrate what we're describing, which makes it easier for you to imagine what the installation will look like.
Take a look at a Sample EE Story Board!
If you are considering enhancements on your property, I encourage you to reach out to us. We will scope out the area, take pictures, and provide you with a proposal, replete with a gallery of images that will bring your vision to life.
Let me know if you'd like us to create a Story Board for your properties. We should start now to prepare for a brilliant spring.
---
LOVE THOSE PRETTY LIGHTS!
You may have heard we've partnered with Lighthouse Outdoor Lighting and Audio to offer lighting services for commercial buildings, HOA common areas, and municipalities. (We do homes, too!)
Lighthouse Outdoor Lighting and Audio is a high-end lighting design company, so your properties will look as elegant in the evening as they do by day. Let me know if you'd like to hear more about it.
I thought you'd enjoy seeing what a few of our lighting designs look like.
SUSTAINABLE LANDSCAPING CORNER
MYTH: SUSTAINABLE LANDSCAPING COSTS MORE (NOT!)
When a biological system is naturally healthy, fewer resources are needed to maintain the system, which saves you money. By using sustainable solutions, we invite mother nature to help maintain your property. Sustainable landscaping offers many boosts to your maintenance programs that conventional chemicals do not:
1) Less water is used and doesn't get polluted as it seeps back into the water tables.
2) Plants are fed with the type of nutrition they were meant to have, which means optimizing health, beauty, and yields.
3) Turf and plants grow more symmetrically, requiring less mowing and pruning.
4) Healthy turf and plants require fewer pesticides.
5) No human or animal health issues are caused by organic exposure.
6) Fewer plants get sick, thereby reducing replacements.
Benefits to the environment aside, an organic ecosystem on your property can result in lower maintenance costs. By using organic products, we're able to take a system approach to treating properties, which creates a healthy, interdependent relationship between turf, plants, trees, pollinators, and human management.
Have we talked about a sustainable landscaping solution for your properties yet?

Cheers,
Mary Follin
Ask About Organic Options!
Environmental Enhancements
www.eelandscaping.com
540.764.4433