A Winter Tale, February 2023
Our green roof business is growing and people like it.
Even if you've never seen one, you may have been hearing about the concept lately. We're finding that more of our clients are inquiring about—and installing—green roofs on their buildings. In a nutshell, a green roof is the installation of plant materials on top of a building or home with specific cost savings and environmental benefits as a goal.
And what would those benefits be?
For starters, a green roof helps reduce drainage problems and weather damage that often begins with the roof.
Green roofs help insulate the building, saving on energy costs and creating a more evenly-heated interior. As an added bonus, they look beautiful covered in snow!
Green roofs attract birds and other lovely creatures, which tenants can enjoy from their windows.
Green roofs are less likely to be a fire hazard.
When communities begin to adopt the concept as a whole, the entire area can enjoy improved air quality, reduced dust, and cooler air during summer heat.
Not all green roofs are designed for people to actually walk on, but some are. Gardens, recreation areas, and seating can all be incorporated to create excitement and interest in your properties.
If you've taken the next step in clean living by installing a green roof, we'd love the opportunity to take care of it. Let me know!
Meet Our New IPM Manager, Frank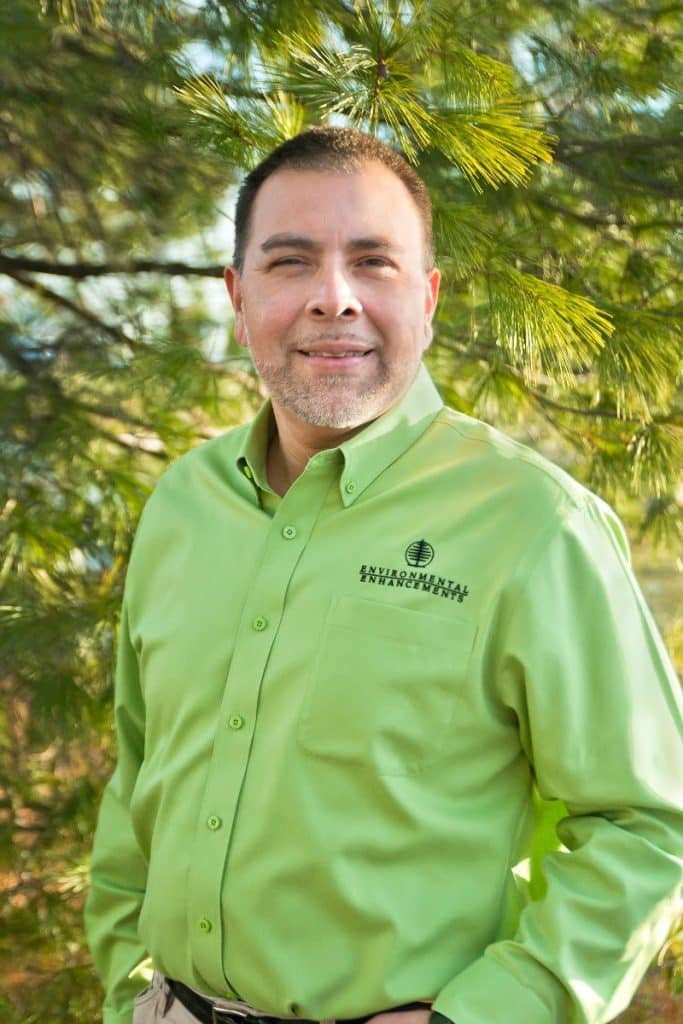 For Frank Rodriguez, what started as a hobby turned into a passion—and then a career. As EE's new IPM Manager, Frank brings his love of creating beautiful outdoor spaces to everything he does. He was particularly attracted to EE's leadership role in the green industry, appreciating EE's core values of fostering creativity, innovation, and good stewardship of the planet.
"I'm most excited about being part of a team that collaborates and works toward the big picture," says Frank. "Every day is an opportunity to contribute to the growth of myself and the company."
As IPM Manager, Frank is charged with establishing relationships with clients, identifying new ways to improve each client's properties, building a team of highly-skilled individuals, and maintaining the highest standards in the industry.
"What I like most about EE is the mentorship mentality," he says. "The company takes pride in developing all employees, as well as pride in creating exceptional landscapes." When he's not working, you can find Frank where else? Outside! He enjoys fishing, camping, or simply spending a day at the park with his family.
Sustainable Landscaping Corner
Kiss the Ground
For a whole new understanding about the impact of sustainable practices, we highly recommend you watch 'Kiss the Ground,' narrated by the beloved 'Cheers' bartender Woody Harrelson, who admittedly has done many other things besides serve beer in a Boston pub. There's also a cameo appearance by (former!) power couple Tom Brady and Gisele Bundchen.
What we learned in Kiss the Ground inspired our own sustainable landscaping short: A New Way to Save the Planet: 'Jane's Story.' If you don't have time to watch a full documentary, take a few minutes to watch ours. It's important.
Let's talk about green roofs and sustainable landscaping for your properties! And if you meet Frank, he can always fill you in.
Cheers, Mary Follin
Ask About Organic Options!
Environmental Enhancements
www.eelandscaping.com
540.764.4433